SATURDAY AUGUST 2ND
9:30 P.M.
PRICE €18.00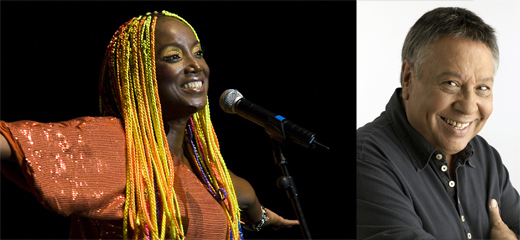 Lucrecia & Havana Street Band
SPeCIAL GUEST: Moncho
Singer, pianist, composer, actress, television host, and a notable writer of children's stories, Lucrecia is a versatile Cuban artist with an irresistible personality. It's impossible not to perceive from the very first moment, the intense energy and feeling which she transmits on stage, something that the Jazz San Javier audience discovered in her spectacular Festival debut two years ago. She is considered by many to be the successor of Celia Cruz. In a night designed especially for our Festival, her brilliant interpretations of boleros and Cuban sons (a style of music and dance that originated in Cuba) will be complimented by a special guest, none other than Moncho, one of the best bolero interpreters ever, and also a great admirer of Cuban music. Both of them will be accompanied by the fantastic Havana Street Band, led by saxophonist Leonel O Zúñiga.
LINEUP:
Lucrecia (vocals and piano)
Moncho (vocals)
Leonel O Zúñiga (flute and sax)
Juan Munguía (trumpet)
Victor Correa (trombone)
Alberto Díaz "Negri" (piano)
Alejandro Fong "Chino" (electric bass)
Yoan Sánchez (drums)
Luis Alfonso Guerra (congas)