WEDNESDAY JULY 26TH
EXPLANADA BARNUEVO
santiago de la ribera
free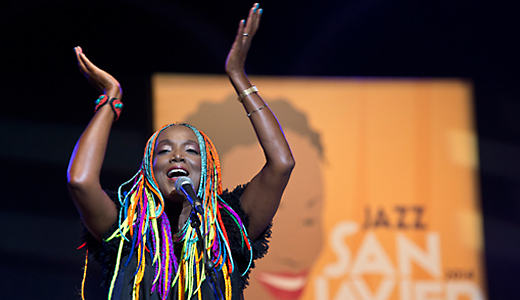 LUCRECIA "AMERICA CÓMO TE ADORO"
WITH RamÓn Valle, Nils Fischer & Yelsi Heredia
Certified with a specialty in piano at the Instituto Superior de Arte de Cuba, Lucrecia received vocals lessons from the composer of the celebrated Bolero "Dos Gardenias", Isolina Carrillo. This Cuban genius has lived in Spain since 1993, and is considered by many to be the successor of the great Celia Cruz. She is a multitalented artist is a notable singer, pianist, composer, television presenter, and an accomplished writer of children's books. On her two previous visits to Jazz San Javier, Lucrecia left a lasting impression with her intense onstage energy, her charm, and her ability to reinvent Boleros and Cuban Son. Adored by our festival, we had to include her for the 20th anniversary to present América Cómo te Adoro, a selection of her favorite Latin American songs, alongside the prestigious Cuban pianist Ramón Valle, the German percussionist Nils Fischer and bassist Yeltsi Heredia.
LINEUP:
Lucrecia (vocals and piano)
Ramón Valle (piano)
Yelsy Heredia (bass)
Nils Fischer (percussion)