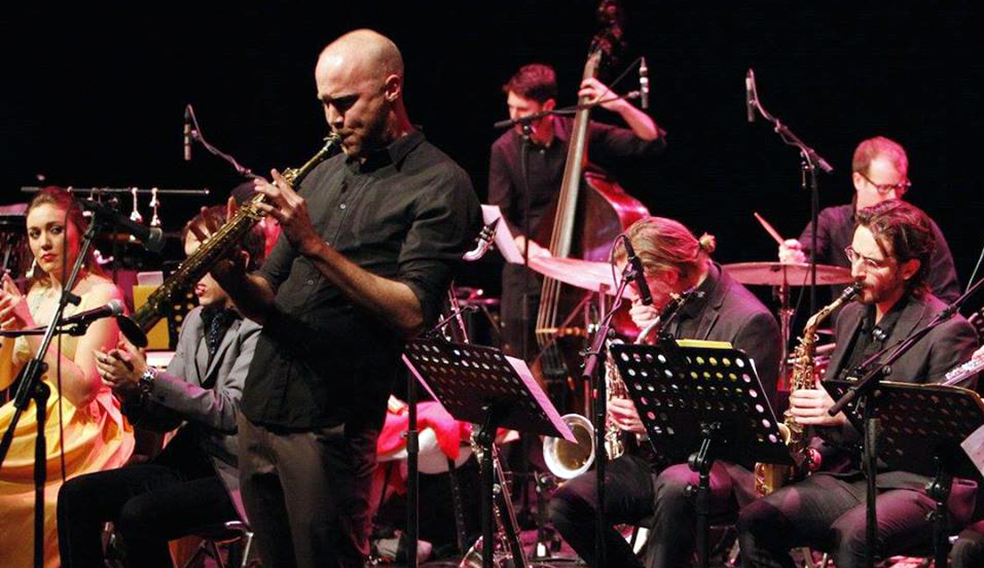 BVR Flamenco Big Band
Guests: David de Jacoba, Karen Lugo & Ricardo Moreno
The fire and charm of flamenco are enriched by unprecedented colors with the wonderful orchestral arrangements for Big Band by Bernard Van Rossum, saxophonist, composer and arranger of Spanish and Dutch origins, leader and conductor of the superb BVR Big Band. His two albums, "Jaleo Holandés" (2015) and "Luz de Luna" (2017), praised by the critics, bring the fusion between jazz and flamenco to sidereal heights, and serve as the basis for an astonishing live show, which will surprise nobody considering the career of David de Jacoba, an exceptional singer, member of the latest band of the great Paco de Lucía, and of Bernard Van Rossum himself, a magnificent jazz saxophonist and conductor. Let's enjoy this fantastic Big Band, composed of great jazz instrumentalists and their distinguished guests, joined by the flamenco guitar player Ricardo Moreno and the great Mexican dancer Karen Lugo: one can rarely see so much talent gathered together in a single stage.

David de Jacoba

Karen Lugo

Ricardo Moreno
Lineup:
Bernard van Rossum (composer, arranger, conductor, tenor & soprano sax)
David de Jacoba (singer, handclaps)
Karen Rubio Lugo (dancer)
*Rycardo Moreno (guitar)
David Dominguez (cajón, percussion)
Maria Marin Gordillo (singer, handclaps)
Lolo Garcia García (alto sax, flute)
Joan Saldaña Blasco (alto sax)
Pedro José Ponce de Leon (tenor sax, clarinet)
Vicent Macian Pla (tenor sax, clarinet)
Xavi Feltrer sax (baritone, bass clarinet)
Víctor Colomer (trombone)
Kako Rubio Sorrche (trombone)
Salvador Hernandez Pérez (trombone)
Pedro Ortuño Benito (trombone)
Juan Munguia (trumpet)
Bruno Calvo (trumpet)
Fede Crespo (trumpet)
Manu Pardo (trumpet)
Miquel Alvarez Ramos (double-bass, electric bass)
Xavi Torres (piano)
Joan Terol Amigó (drums)
* Due to circumstances beyond the Festival, Manuel Montero replaced Rycardo Moreno.