FRIDAY JULY 22ND
11.00 P.M.
PRICE 20€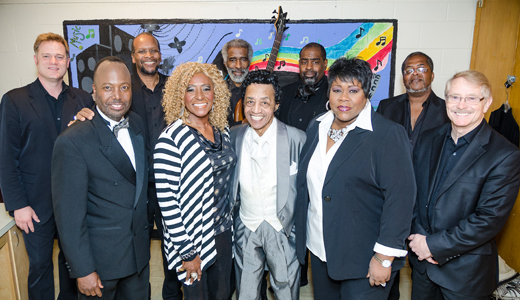 THE JB's, JAMES BROWN ORIGINAL BAND
FEATURING: MARTHA HIGH
James Brown's original band, The JB's, under the direction of trombonist Tyrone Jefferson, musical director of The JB's since 1976 and one of the architects of the band's spectacular soul and funk sound, offers the full repertoire of James Brown's concerts, " the Godfather of Soul" and one of the greatest musical legends of the twentieth century. With eleven musicians on the stage, an impressive brass section and the participation of Martha High, vocalist for the JB's since 1964, a singer capable of melting stones. This project, the only one fully endorsed by the James Brown Family Foundation, also includes the great Danny Ray, James Brown's Master of Ceremonies since 1960, with bassist Fred Thomas, and drummer Tony Cook, the original rhythm section since 1976 with a group of musician who contributed in creating the impressive live performances of the Godfather of Soul, also with another great singer, Cynthia Moore (The Bettersweets). All the ingredients for a soul concert which will leave a mark in the history of the festival.
LINEUP:
Martha High (vocals)
Tyrone Jefferson (trombone)
Danny Ray (scenery director)
Cynthia Moore (vocals)
Hollie Farris (trumpet and keyboards)
Joe Collier (trumpet)
Jeff Watkins (sax)
Keith Jenkins (guitar)
Rob Watson (guitar)
Fred Thomas (bass)
Tony Cook (drums)
George Spike Nealy (percussion)